Kaminskiy Commercial Construction offers project management services to commercial clients across San Diego county. Our experience working on some of the finest development projects in the city means we have the understanding and insight you need to make your next commercial construction project a success.
---
Commercial Construction Services
Each project has unique challenges with project management that must be finely tuned to ensure swift and cost-effective completion. Health care facility and life science building construction carry specific code standards that must be followed. We know the complex details of these codes down to smallest detail making us one of the most trusted companies to work with.
Restaurant design can also be complex. The atmosphere of your new location is defined by every shade of light, every door handle, every floor panel. Our focus on quality is present throughout build process to make sure the final product exceeds your expectations.
---
Our Mission
The primary objective of Kaminskiy Commercial Construction company is to ensure our clients are satisfied. We build a personal relationship with our clients to completely understand their objectives for each project. From the blueprints to ongoing maintenance, long after the business has opened, our goal is to be at your side every step of the way.
Our collaborative effort with our clients is unique in that we make every effort to get to know our clients. The key to our success is communication. We believe that in doing so, we will better construct a proper representation of their business. We are not just another general contractor; we are a partner.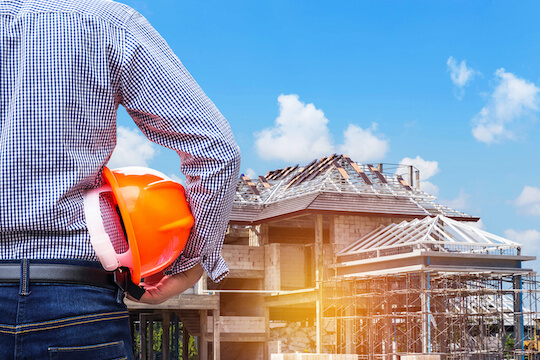 Construction of a new building, or a remodel, can bring up surprises and a variety of stressful situations. Through our experience and personal approach, we work to avoid placing those stressors on you, the client. Our job is to effectively project manage by anticipating potential problems and addressing them before they occur, ensuring that the project stays on track.
---
San Diego has been our home for the duration of our company's existence. We understand that the buildings that we construct must not only represent the client, but also represent our beloved city. We take very seriously the responsibility of keeping all projects environmentally safe and stable.
---
The Kaminskiy Process
Kaminskiy Commercial Construction is a unique company. We are not only there on site building the walls that will surround your latest business venture, but also making sure our experienced design team work closely with you to create spaces that work. Our award-winning design team presents a novel perspective to create the professional atmosphere that you are after. With the combined efforts of the construction management and design teams, we provide all the services you need in one place. We work to minimize costs through properly managed commercial construction projects.
We work on commercial projects large and small. Whether it is straightforward tenant improvements or the complex design and build of a completely new building, we are here to help. Call San Diego's best commercial contractor today to see how we can help create your vision for your new business premises.